X
$9.99 Shipping Promotion applies to Online Orders with Standard Ground Shipping to the lower 48 US States only.
Some restrictions apply. Simply add items to your cart and enter your shipping address to see if your order qualifies.
Power Solution & Install - 55-2507
$1,137.19
$666.67
Sale Prices Shown are Valid Until 08/17/18.
PRODUCT DESCRIPTION
Power Solution & Install
Item 55-2507 | MFR# 2010-100KIT
The JTB Power Solution will add

20 MORE Amps to ANY RV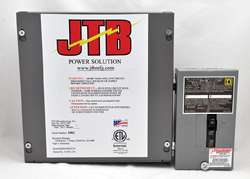 55-2509 JTB Power Solution Installation Kit ONLY
Run your 50 AMP RV in a 30 AMP Park
How Does It Work?
The JTB Power Solution automatically configures the available power in a typical RV park (30 amp main circuit and 20 Amp circuit or GFCI auxiliary) for use in your RV. Once the JTB Power Solution is installed, you simply plug your existing power cord into the 30 amp service and plug the additional power cord (added to your RV with the JTB Power Solution installation) into the 20 amp circuit or GFCI.
The JTB Power Solution is the only AC power cable adapter on the market that will allow you to put the full 50 amps of service available at a typical RV parks 30 amp power pole to work in your RV, whether the 20 amp auxiliary outlet is a GFCI or not. Once installed, you will be able to run both of your RV air conditioners at the same time to keep your RV cool, or run other appliances with a single air conditioner simultaneously.
Consider these points:
Provides an extra 20 amp circuit expansion

Switches from 30 to 50 amp service automatically

Works on all RVs and 5th wheel trailers

Allows simultaneous use of multiple AC units & appliances
The JTB Power Solution is automatic, so there are no switches or meters to monitor. Traditional cheater boxes will not work with your RV if the power pole has a GFCI outlet. The cheater box will cause the GFCI to trip every time--in just a matter of minutes--when both air conditioners are running.
The JTB Power Solution is ETL Tested and Certified and carries an one year warranty.

Click here to visit the JTB Power Solution website for for more information including testimonials.
Tech Specs
Weight: 14 lbs.

Dimensions: Product Size 14.5"x 10"x 4.5"

Warranty: Mfr. 1 year limited warranty

Manufacturer: Jtb Manufacturing

Mfg Part #: 2010-100-KIT

FREQUENTLY BOUGHT TOGETHER
Jtb Power Solution Only
Item #: 55-2508 | Manufacturer #: 2010-100
Product Details
$787.29
$475.04
Sale Prices Shown are Valid Until 08/17/18.
Jtb Installation Kit Only
Item #: 55-2509 | Manufacturer #: 2010-100-INSTALL
Product Details
$217.39
$159.51
Sale Prices Shown are Valid Until 08/17/18.
More Details
EXPAND
Product Cross-Sells

55-2508
55-2509

Popularity

166

Related Products

55-8403
55-8578
55-8547
55-9420

Manufacturer Numbers

2010-100KIT, 19-3395, 2010-100-KIT

Manufacturer

Jtb Mfg Inc.

UPC List

736211819680

Features

Powers your 50 amp RV in a 30 amp state park by using the 20 amp GFCI receptacle
Eliminates GFCI tripping at typical RV hook-ups--works with GFCI hook-ups in all RV parks
Eliminates need for running generator to operate two air conditionersprohibited in many parks
Allows unlimited use of both air conditioners in all RVS---Travel Trailers, 5th Wheels and Motorhomes
Allows use of one air conditioner and another appliance such as a microwave simultaneously
Lets you use your hair dryer without blowing circuit in all 50 amp or 30 amp RVs

Specifications

Includes detailed installation instructions with schematics
Made in USA
Patent pending
Mfr. part #2010-100-KIT
Power sources: Two 110 Volt AC Power Inputs
Type of power: Single Phase 50/60 Hz
Electrical rating: 20 amp
Dual transfer switches with automatic 40 amp relays
Enclosure: Type 1 UL rated
Dual 20 amp breakers
30 ft. 30 amp power cord with 20 amp adapter
Fixed solid state microchip
Circuit board: 2-sided plated PCB .0625 thick, recognized FR4 material with 2 oz. thru copper plating
ETL Intertek Approved to US UL Std. 1008 and Canada CSA Std. C22.2 No. 178.1
Shipping Weight 27 lbs.