X
$9.99 Shipping Promotion applies to Online Orders with Standard Ground Shipping to the lower 48 US States only.
Some restrictions apply. Simply add items to your cart and enter your shipping address to see if your order qualifies.
DIESEL ENGINE EXHAUST BRAKE - US GEAR - 3 IN 60 LBS - 94-7507
$1,691.59
$1,359.41
Sale Prices Shown are Valid Until 03/29/19.
PRODUCT DESCRIPTION
DIESEL ENGINE EXHAUST BRAKE - US GEAR - 3 IN 60 LBS
Item 94-7507 | MFR# EXB-3054E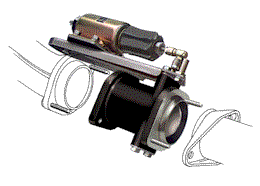 D-Celerator Diesel Engine Exhaust Brake. The U.S. Gear D-Celerator is a unique, electrically-activated exhaust brake for diesels.
Exhaust brakes take the Terror Out of Downhill Towing
Add Thousands of Miles to Your Vehicle's Brakes
Patented Waste-Gate Design Gives Powerful Braking at Lower RPMs
A diesel engine exhaust brake can help you avoid the feeling of panic in hard or prolonged braking situations with diesels engine vehicles. Gasoline engines are designed with a throttle or butterfly valve that closes the air intake of the engine forming a vacuum effect that assists the vehicle in braking. Diesel powered engines have no such butterfly valve and thus no compression is developed when the throttle is released during braking. This means the brakes are given the entire task of getting the vehicle stopped.
Additional information can be found at the manufacturer's Diesel Engine Exhaust Brake web pages. We are an authorized dealer and can supply most any of the US Gear D-Celerator products.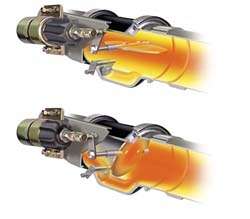 Top: Valve Open Bottom: Valve Closed
The D-Celerator uses back pressure to provide supplemental braking. An oversize nodular iron housing consisting of two stainless steel butterflies (one large, one small) is added to the exhaust system in front of the muffler. The large version is in the main passage, while the small butterfly operates in a separate waste gate by-pass port. Available from 2-1/2" up to 4" . When signaled, the large butterfly closes , creating immediate exhaust pressure for assisting the vehicle's regular brakes. Gas flow is now directed through the small by-pass port and released by the small butterfly at at pre-determined pressure. This maintains the back pressure longer, providing precision braking whenever you need it. This system does not require valve spring changes or engine modifications.
The key elements to determining which model is applicable is the diameter, lbs of spring pressure and whether it is electronic. This links to a diesel engine exhaust brake selection chart for the more popular products for motor homes and large trailer towing vehicles. As an authorized dealer, we can supply the products shown. Below are some of the more common models that fit factory standard engines and exhaust systems. Click on Stock # below to link you to its corresponding page, or view the products in Similar Products.
Stock #
Manufacturer #
Diameter
Inches
Exhaust
Pressure
lbs
94-7503
EXB-3554
3 - 1/2
50
94-7504
EXB-3500
3 - 1/2
35
94-7505
EXB-4154
4
60
94-7506
EXB-4100
4
35
94-7507
EXB-3054E
3
60
94-7508
EXB-3000
3
35
FEATURES:
Adds engine braking power to make going down mountains safer

Add Thousands of Miles to Your Vehicle's Brakes

Extend Your Diesel Engine Life With Rapid Cold Weather Warm-Up

Patented Waste-Gate Design Gives Powerful Braking at Lower RPMs

SPECIFICATIONS:
For Front Engine Applications - Electric Activated

For 3" Factory exhaust system

Install ahead of muffler

Only applicable to vehicles using a single exhaust system
More Details
EXPAND
Manufacturer Numbers

EXB-3054E, 94-7507

Manufacturer

AP Products Inc