X
$9.99 Shipping Promotion applies to Online Orders with Standard Ground Shipping to the lower 48 US States only.
Some restrictions apply. Simply add items to your cart and enter your shipping address to see if your order qualifies.
21' Roll XTRM RV Roofing Membrane - 13.0040
$382.99
$319.51
Sale Prices Shown are Valid Until 01/29/21.
PRODUCT DESCRIPTION
21' Roll XTRM RV Roofing Membrane
Item 13.0040 | MFR# 1700534142711421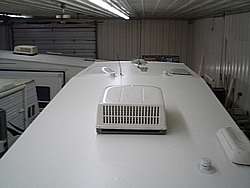 RMA XTRM-PLY from LaSalle Bristol is a flexible, durable PVC membrane designed to meet the unique challenges of a RV roof. Unlike other RV roofs, RMA XTRM is a solid material that will not chalk and stain the side of your RV. It does not require periodic expensive re-coating. It is naturally fire retardant and UV resistant. Once installed, this membrane is easy to patch/repair with PVC cement. Designed to be installed with RMA adhesive, sealants and butyl tape only. Thickness of this durable PVC material is 27 mils, and is covered by a 12 year limited warranty.
Today there are PVC commercial roofs in service that are over 30 years old. The inherent strength, high reflectivity and long life of PVC membrane make it an ideal choice for RV roofing. Unlike other membranes currently used on RVs, XTRM-PLY does not require any reconditioning or treatments to prevent fading, oxidation, drying and cracking, nor does it require any special cleaning agents. XTRM-PLY roofing has been tested to the extreme COLD weather conditions of -40 and meets the ASTM standards for roofing membranes. Unlike other RV roof sealants, XTRM sealants are not made with solvents, so they do not shrink over time. XTRM butyl tape is made from better ingredients that make it stronger and more resistant to temperature changes and road vibrations, and provides excellent adhesion that improves with age.
XTRM-PLY roofing membrane is resistant to tears and rips and can be easily patched either with PVC glue or heat welding. XTRM-PLY is made with DuPont KEE Elvaloy, a solid plasticizers that does not migrate. This makes our roof resistant to fatty acids and many petrochemicals, unlike other roofs that warn about contact with these items. PVC-vinyl roofing is one of the longer lasting roofing systems
PVC roof membrane material is 9'6" wide and is sold rolls of 21', 25', 30', 35', and 40'.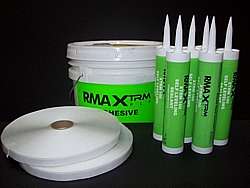 RMA XTRM-PLY Installation Kit (Sold Separately)
The Installation Component Kit includes two gallons of RMA EXP 90 adhesive (covering approximately 225 sqft per gallon), 150 ft. of butyl tape used to seal around all the accessories and molding, and six 10.1 oz. tubes of RMA XTRM 100 self-leveling sealant. Each kit comes with a warranty card and easy to follow instructions. Use adhesive on moisture absorbent substrate, not on metal, fiberglass, or membrane-to-membrane applications
FREQUENTLY BOUGHT TOGETHER
More Details
EXPAND
Manufacturer Numbers

1700534142711421, 13-0040

Freight Charge Residential

135

Manufacturer

Lasalle Bristol

UPC List

040472103571

Freight Charge Commercial

105

Product Cross-Sells

13.0041
13.0042
13.0043
13.0044
13.0049

Related Products

31-4175
31-3125
31-0361

Popularity

862

Color

White

Length (ft)

21

Material Width

9'6"

Roof Type

PVC - RMA XTRM Ply
Related Products