PPL's RV Consignment Centers
Free Booklet...
Learn how to sell your RV & avoid common mistakes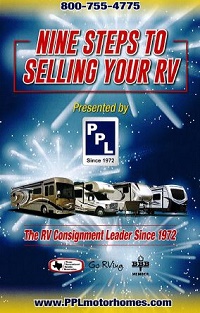 Let the Experts at RV Consignment Sell your RV Quickly and at the Best Possible Price!
Want to sell your RV? Let the Experts do the work for you! We are the largest RV Consignment Dealer in the USA and have a proven track record dating back to 1972. You can join the over 44,400 RV owners, and the 3,871 in the last two years alone, who have trusted PPL to sell their RV.
Read below to see what we do to get your RV sold quickly and at a fair price or watch this video to see the many services and benefits offered by PPL.
Interested in trading in your RV on another RV on our lot or would just like to outright sell it? We do that too! Please fill out this Form or give us a call at 800-755-4775 and one of our experienced Client Service Representatives are happy to discuss your selling options with PPL Motor Homes and can set up and appointment for your free RV Appraisal at one of our 3 convenient Texas locations.
Click On The Topics Below To See What PPL Does To Get Your RV Sold!