X
$9.99 Shipping Promotion applies to Online Orders with Standard Ground Shipping to the lower 48 US States only.
Some restrictions apply. Simply add items to your cart and enter your shipping address to see if your order qualifies.
Duo-Therm Brisk Air II Air Conditioner - 15,000 Btu - Black - B59516.XX1J0
$1,126.25
$727.53
Sale Prices Shown are Valid Until 08/14/20.
PRODUCT DESCRIPTION
Duo-Therm Brisk Air II Air Conditioner - 15,000 Btu - Black
Item B59516.XX1J0 | MFR# B59516.XX1J0
The Duo-Therm Brisk Air II will keep you cool in the hottest of weather conditions

The Brisk Air II blows ice cold no matter how hot and stuffy it is outside, keeping you cool and comfortable.

Lower profile A/C units may be the trend in RV's today but sometimes you still need a beast like this one to take on the heat; especially if you have to wrestle with high temps and high humidity on your travels. In those weather climates those smaller profile units will leave you stuffy, sticky, and uncomfortable.

The Duo-Therm Brisk Air II blows cooler, stronger, and quieter than the previous model. If you need to cool a smaller space check out the 13,500 BTU Brisk Air II.

The Brisk Air II uses different types of high tech materials used by aircraft engineers to make the unit lighter, better insulated, stronger, and aerodynamic. These make for a sturdier and more reliable A/C unit, adding structural integrity while minimizing noise and vibration

ATTENTION NEWMAR COACH OWNERS:
The New Brisk Air II A/C will not work on a Newmar Coach. (The blower position has moved and will not line up with the plenum used by Newmar). DOMETIC has a solution! Please call PPL at 800-755-4775 for details.

Important Note: New air conditioners, ceiling assemblies, thermostats and control systems, may not work with existing installed components. Some of these items may need to be replaced to properly match new components.
Brisk Air II Air Conditioners
Part # B57915 - 13,500 BTU
or
Part # B59516 - 15,000 BTU

Non-Ducted w/Ceiling Control

Non-Ducted w/Wall Thermostat

Ducted

Ceiling Assembly

3105935.039(SW)
OR
3105935.047(PW)

Wall Thermostat Cool Air Only (Single Zone LCD)

Please call for assistance

3313189.000(PW Cool Air Only)
OR
(3313189.015)
(Black Cool Air Only)

CT Single Zone Cool/Furnace & Heat Strip

Please call for assistance

3316232.000 (Wh) OR 3316232.010(BLK)

Electric Heat Strip (Optional)

CCC II T-Stat

3314082.011(PW)
OR
3314082.000(Black)

3314082.011(PW)
OR
3314082.000(Black)
OR
3312020.000(Multi-Zone)
15K Brisk Air II Features:


15,000Bthu
Non-Ducted or Ducted
115vac, 60hz, 1ph
13.2 Compressor-rated load amps
2.7 Fan motor-rated load amps
300/350 SCFM, high speed max/min
13.7/1,530 Heater amps/wats @ 120vac
22oz - Refrigerant 410A
12 awg copper min wire size (up to 24 feet)
20amp time delay fuse or 20 HCAR circuti breaker (AC circuit protection)
74 lbs - installed weight
3.5kw min generator size for 1 unit
5.0kw min generator size for 2 units
ADB or Thermostat control options
FREQUENTLY BOUGHT TOGETHER
More Details
EXPAND
Product Cross-Sells

3314998.000
3315450.000
3314851.000
3314850.000
3105935.039
3105935.047
3314082.011
3314082.000
3312020.000
3316232.010

UPC List

713814204846

Manufacturer

Dometic

Popularity

37472

Freight Charge Commercial

95

Freight Charge Residential

120

Related Products

B59516

Manufacturer Numbers

B59516.XX1J0, 9105304475, 18-2594

Brand

Brisk Air II

BTU Size

15000

Color

Black

Mount

Rooftop

Profile

Standard

Voltage

120 Volt

Temporarily Unavailable

Yes

Video Link

https://youtu.be/WA8xWDgw1rA
Related Products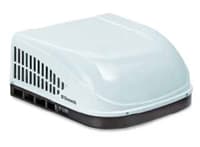 This item is temporarily unavailable.