X
$9.99 Shipping Promotion applies to Online Orders with Standard Ground Shipping to the lower 48 US States only.
Some restrictions apply. Simply add items to your cart and enter your shipping address to see if your order qualifies.
Battery Tender Junior - 55-1237
$42.09
$35.17
Sale Prices Shown are Valid Until 07/10/20.
PRODUCT DESCRIPTION
Battery Tender Junior
Item 55-1237 | MFR# 021-0123
Deltran Battery Tenders are more than just your average battery charger. They are microprocessor controlled and fully automatic battery charger/maintainers. They are designed to extend the life of any lead acid battery commonly used in RV's, boats, cars, etc. They can save you hundreds of dollars you would have spent replacing those batteries because of overcharging while in storage during the off season. A Deltran Battery Tender will ensure that your batteries are ready when you are and at their peak.
A standard trickle charger, while providing the "trickle down" current level required, the voltage level can go as high as 16 volts during the charge and cause "gassing" of the battery. This will seriously reduce the life and performance of the battery. Battery Tenders monitor both current and voltage to prevent gassing and sulfation.
The Battery Tender Junior, Part # 55-1237, is small and compact in both size and output current. It only puts out 0.750 Amps at 12 volts DC. It's small size makes it ideal for use in small tight spaces where a bulky full size charger will not fit. It's a fully automatic and economical choice to replace your standard trickle charger.
RV owners love the Dual bank Battery Tender, Part # 55-0165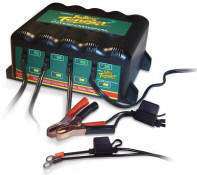 and it's big brother The Quad Bank Battery Tender, Part # 55-0148.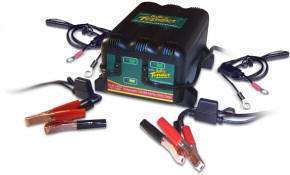 Both are just like our popular Battery Tender Plus with 1.25 Amps per bank. It's like having Several battery chargers in 1 lightweight package. Each bank is completely independent of the others for convenient charging of your engine and house batteries at the same time saving you time and money. The Quad Bank Tender is perfect for those ATV owners because it can keep the batteries for all your "toys" at the peak of performance during off season times at the same time.
All of the above listed Battery Tenders come with Ring Terminals and Alligator clips and are equipped with quick disconnects for ease of use.
Deltran Battery Tenders Feature:
4 Step Fully Automatic Charging with indicators
Short Circuit Protected
Spark proof, even when leads touch.
Has Zero to Minimal Current Draw from Batteries.
Will pay for itself in longer lasting batteries.
Warranty details are available for the Deltran Battery Tenders.
More Deltran Battery Tenders are available Here.
If your looking for a standard battery charger then click here.
FREQUENTLY BOUGHT TOGETHER
Battery Tender 2 Bank
Item #: 55-0165 | Manufacturer #: 022-0165-DL-WH
Product Details
$159.89
$149.73
Sale Prices Shown are Valid Until 07/10/20.
This item is temporarily unavailable.
Battery Tender 4-Bank
Item #: 55-0148 | Manufacturer #: 022-0148-DL-WH
Product Details
$319.59
$303.57
Sale Prices Shown are Valid Until 07/10/20.
More Details
EXPAND
Manufacturer Numbers

021-0123, 19-0263

Manufacturer

Battery Tender

UPC List

734357000078

Product Cross-Sells

55-0165
55-0148

Related Products

55-1287
55-9025
002733
55-7900

Brand

Battery Tender

Temporarily Unavailable

Yes