X
$9.99 Shipping Promotion applies to Online Orders with Standard Ground Shipping to the lower 48 US States only.
Some restrictions apply. Simply add items to your cart and enter your shipping address to see if your order qualifies.
Roadmaster Stowmaster - Pintle Ring Hookup - 6000lb - 94-9631
$803.86 + Free Shipping!
Sale Prices Shown are Valid Until 05/14/21.
PRODUCT DESCRIPTION
Roadmaster Stowmaster - Pintle Ring Hookup - 6000lb
Item 94-9631 | MFR# 581
One person connect or disconnect, thanks to the adjustable stainless steel arms, self-lubricating nylon busings and unique, self-supporting quick disconnects. Integrated angle iron support across the rear of the bar (a StowMaster exclusive) for added strength and stability. Arms lock into place as you pull motorhome forward. Safety lock prevents slide collar movement in transit, preventing car from wandering behind motorhome. Internal safety strap prevents separation of tow bar if primary lock fails.

6,000 pound capacity
Weight: 56 pounds
Warranty: Mfr. two year warranty
Mfg Part #: 581
Made in the USA
Coupler: Lunette ring for use with Pintle hitches
Compatibility: works with Roadmaster vehicle-specific base plates - EZ, XL and Standard
Will not work with MX series
Use Safety Cables: (38181) Mfg# 645, 6000# 64" safety cables (click to open link)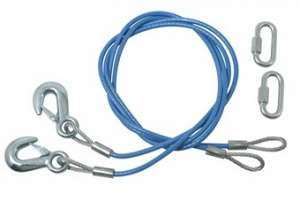 Please note: The StowMaster car-mounted tow bar with a Pintle ring connects to vehicles using a Pintle hook instead of a ball hitch for heavy-duty hauling.

Autowlok towing mechanism - allows both tow bar arms to extend or retract for a quick connection. Then, as you drive away, the arms self-center and automatically lock.

The manufacturers website has general information on theRoadmaster tow bars or details on theRoadmaster Falcon tow bars. Information on Roadmaster brackets is also available. Each of the above links will open in a new browser windows.
Brackets
Select from 4 bracket types:

Standard Bracket - Economical but visible; good for many light weight and average low profile cars.
XL - Widely used for a variety of vehicles and are almost totally hidden.
EZ - Hidden twistlock design available for many smaller cars
MX and MS - Specifically for vehicles with heavy-duty frames such as the Suburban and full-size pick-ups.
Please note that example brackets are shown for pricing guidance. However, brackets must be matched to the specific application.




Other Items

Covers Safety Cables Coil Wiring Kits

The heavy-duty, black marine quality vinyl cover will help protect your unit and provide an improved look when not using. Safety cables are required in case it becomes unhooked. Coil wiring kits make installation easy and neat. In most cases you should also order a bulb and socket kit. Please ask about these items when ordering.
Towed Car Auxiliary Braking System

A supplemental towed car braking system is highly recommended and is legally required by many states. Check out the popular and easy to use
Brake Buddy
braking system.
Lock your tow bar!!
Protect your investment with locking hitch pins and base plate locks. If you stop for lunch and don't take the keys out of your towed vehicle, it's not a great feat for someone to steal it and/or your valuable tow bar. The 3-lock set is keyed alike. Click here.
What do I need?
Tow Bar
Base Plate/Bracket
Wiring Harness
Bulb & socket set or Hard wire kit
Safety Cables
Security Locks
More Details
EXPAND
Manufacturer Numbers

581, 14-6001

Free Ground Shipping

Yes

Manufacturer

Roadmaster Inc.

UPC List

758306005815

Related Products

38671
38181
94-4374

Model

StowMaster

Weight Capacity (lb)

6000

Features

6,000 pound weight capacity car-mounted tow bar
Autowlok system allows both tow bar arms to extend or retract for a quick connection
Autowlok also provides for one person to position and lock the coupler over the ball in one continuous motion
StowMaster technology automatically self-centers and locks itself after driving u2013 from stow to tow in seconds
Moving stainless steel components prevent corrosion and to ensure smooth and easy operation
Self-lubricating nylon bushings eliminate friction between the inner and outer arms with pintle hook
Full-length safety crossbar - a full-length angle iron brace is integrated into the rear of the bar for maximum support
Plug-welded arms - steel plugs seal both ends of the tow bar, preventing corrosion from moisture and debris
A lustrous, high-tech powder coat finish for maximum durability
Related Products